You Don't Have to Take Our Word for It!

Here's what some of our satisfied customers have to say about Eagle Auto Repair: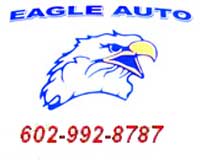 Eagle Auto is acutally a mechanic you can trust. Charlie showed me what was wrong with my car, showed me the parts, gave me a lesson on what and why it needed to be fixed and gave me a great price. I am definitely going back for any other repairs I need to have done.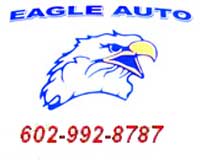 Eagle Auto is a shop that I can trust. I was quoted a price and time that the work would be completed. No surprises. I am confident that the repairs were made (brake work for Nissan Frontier) by experienced techs at a competitive price. Thanks Charlie.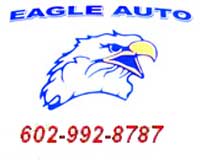 The service I got here was incredible! The ability of the tech and know how was second to none. I will continue using Eagel Auto in the future.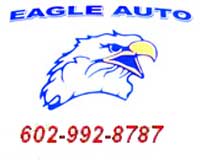 I had a great experience at Eagle Auto Repair and dealt with the owner, Charlie. After receiving a ridicoulous quote from the dealer I found Eagle Auto Repair on garagefly and Charlie was able to do my repairs at 50-60% cheaper that the dealer! The service was speedy and professional. My fiance and I have had a horrible time finding an honest and reliable mechanic for even the most basic maintenance on our cars but we now truly feel like we have found a lifelong mechanic. I will be recommending Eagle Auto Repair to all of my friends and family. Thanks again Charlie!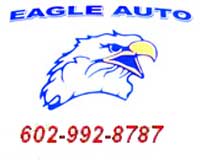 I dealt with Charlie (the owner) and Johnny personally. I found both men to be extremely knowledgeable, efficient, and thorough. My car was ready on time and my 30,000 mile tune up ended up being less than the price Charlie initially quoted me over the phone. Johnny took the time to go over any questions. I had and even took me out to the car to show me first hand what he was talking about. The work was superior to any experience I've had with mechanics prior to this check up. The customer service was outstanding. They have won me and my boyfriend over for life. I wouldn't take my car anywhere else for service.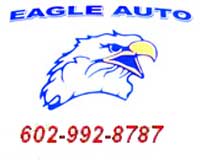 This shop does great work! All requested work was done by an honest and fair mechanic/businessman. Will definitely keep him as my mechanic and will refer others.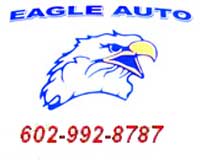 Eagle Auto is one of the best in Phoenix Arizona. I have always received excellent service not only on my car but also with customer service. They take the time to show me what's wrong with my car and what has to be done to fix it. I'm glad there is service like this in the world. If I didn't know about Eagle Auto, I would be lost and wouldn't know where to take my car to get fixed.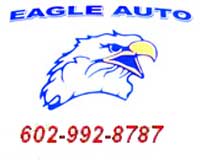 The folks at Eagle Auto are very knowledgable and do exceptionally fine work. I have been taking my vehicles to Charlie King for the past year and one half and I have never been disappointed with the quality of the work or the price I have been charged. Charlie sees to it that every car is repaired as if one of his family members was going to drive it. That is the tyoe of mechanic I want working on my vehicles.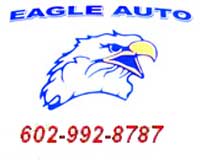 Excellent service - great help all around - cleanest shop in the valley in my opinion.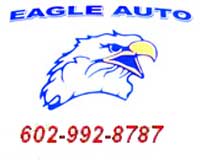 Eagle Auto is very professional. The staff is very friendly and they did an excellent job repairing my vehicle. I would recommend then to everyone.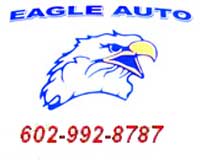 I needed a new car battery. I'd heard auto parts stores would do a diagnostic test and even change it out. Well, the diagnostic came back that I also needed an alternator... at something like $500-600(?) and a 2 hour wait for the part. I asked the associate if he knew any trustworthy mechanics and he recommended Charlie at Eagle Auto Repair. I immediately stopped by Eagle Auto and Charlie said I didn't need a new alternator. He gave me a better price for the battery... and installed it in 10 minutes. Still several weeks later, all is well! Being in sales myself, I appreciate the honesty that Charlie gave me that day. He could have sold me something I did not need and I would be none-the-wiser, but he didn't, which makes this recommendation all the more powerful.
Discover More About Reviews and Repair Services At Eagle Auto Repair in Phoenix

Auto Repair Near Cave Creek
Auto Repair Near Tempe
General Maintenance